Quartz
We carry products from most of the major manufacturers including particularly Silestone, Caesarstone, Viatera and Corian. Quartz countertops are made of a combination of natural quartz crystals and a small percentage of resins and other raw materials like glass and metallic flakes.
Quartz countertops offer several benefits that make them very attractive. It is a non-porous material, meaning it will not harbor bacteria and is stain resistant. It is a very dense material, which makes it impact and scratch resistant. They come in a variety of colors and patterns, some of which look like natural granite, marble, limestone or concrete. Most manufacturers carry a minimum of a ten-year warranty on their quartz products.
Most of the quartz colors we carry are shown in the Countertop Visualizer. Visit our blog to see our top trending Quartz colors.
Natural Stone & Granite
Natural Stone has been a popular product for countertops for many years. It is prized for its unique, natural beauty and elegance. There are many different types of natural stone available, but the most popular materials are Granite, Marble, Quartzite and Soapstone. Natural Stone is also a very durable product but does require slightly more maintenance than quartz.
In terms of physical properties natural stones vary widely both within categories from each other. Some general information about each category.
Granite – Formed as volcanic magma cools and crystallizes below the earths surface. Mainly made up of quartz and feldspar with minor amounts of micas and other minerals. The speed of cooling determine the size of the crystals which vary widely; the mix of minerals determine the colors. (Check out our blog for more information). Together the crystalline structure and the mix of minerals determine the widely differing properties of granite and explain why no two granites are the same and have different properties in your countertop.
Marble – Typically limestone formed under heat and pressure; veining colors and crystalline structure depend on impurities of different types. In general marbles are much softer less robust and more stain resistant than granites and quartzites and less commonly used in countertops. We do hold a few marbles in inventory, mainly for bathroom use although there is always a demand for marble in kitchens also.
Quartzites – Quartzites are not granites. They are formed from quartz sand under a lot of heat and pressure (quartzite is typically deeply buried) which causes the sand grains to deform and fuse together. Most quartzite is white but sometimes groundwater flowing throught the sand deposits minerals which can leave vivid colors and patterns. Quartzite is very hard with a crystalline structure.
Soapstone – Primarily formed from Talc under heat and pressure, this material is a countertop classic. It has natural heat resistant and stain resistant properties and a patina and feel unlike other materials. Although it scratches more readily, scratches are easily repaired with the application of mineral oil and, if deep, fine sandpaper.
Most of the natural stone colors we carry are shown in the Countertop Visualizer. Visit our blog to see our top trending Granite colors.
Ultracompact Surfaces
Dekton is an engineered ultracompact surfacing material. It is different than engineered products such as quartz because it can withstand harsh UV lights, making it perfect as countertops for your outdoor kitchen. Some Dekton colors are also available in flooring formats.
It is a high tech material which is manufactured using a revolutionary process under very great heat and pressure so that it is similar to the way natural stone was formed. But because it is a controlled process the surface does not have fissures and similar weaknesses the way natural stone does.
Dekton comes in a 2cm thickness for countertops. This provides an interesting and modern look. Be aware however the edge when polished may look different form the face.. Although it can be mitered, the greatest success has been in using this revolutionary material at its regular thickness.
Most of the Dekton colors we carry are shown in the Countertop Visualizer.
Solid Surface
Solid Surface materials are some of the most versatile out there. We work with top brands like Corian, Hi Macs and Wilsonart. Although sometimes characterized as old fashioned, modern designs and colors really deserve a new look. They come in a wide variety of hues, textures, & shapes. Like quartz, solid surfaces are non-porous and very easy to maintain. And unique amongst countertop materials, they can be made with seams that are smooth to the touch and virtually invisible. Seams and backsplash can be integrated also to provide exceptional hygiene. And for those who desire it, charging spots can be built into the countertop.
We don't yet show our solid surface products in our visualizer. However, view our blog for currently trending solid surface products.
Sinks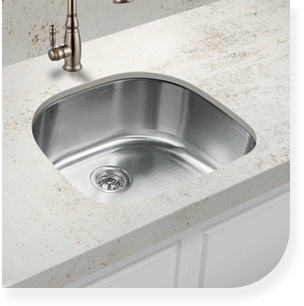 Single Bowl Sink – LOF 100
– Material: Stainless Steel 304
– Finish: polished
– Overall Dimensions: 23 5/8″ x 21 1/8″ x 9″
– Bowl Dimensions (inside to inside): 21 1/2″ x 18 7/8″ x 9″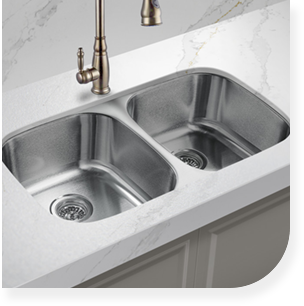 Double Bowl Sink – LOF 200
– Item ID: LOF200
– Material: Stainless Steel
– Finish: polished
– Overall Dimensions: – 32 1/4″ x 18 1/4″ x 9″
– Bowl Dimensions (inside to inside; each bowl): – 16 1/8″ X 14 5/8″
– Bowl ratio: 50/50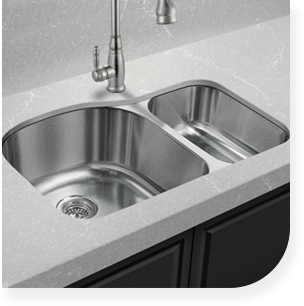 Banjo Sink – LOF 300
– Item ID: LOF300
– Material: Stainless Steel
– Finish: polished
– Overall Dimensions: 31 1/2" x 20 5/8" x 9″
– Bowl Dimensions Large (inside to inside): 18 1/2″ x 17 3/4″ x 9″
– Bowl Dimensions Small (inside to inside): 16″ X 10 3/8″ X 7″
– Bowl ratio: 70/30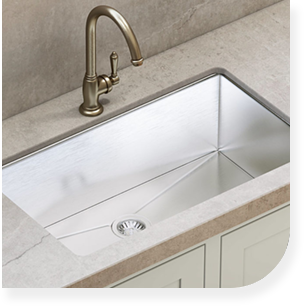 Single Bowl Sink – LOF 400
– 16 Gauge Steel
– Item ID: LOF400
– Material: Stainless Steel 304
– Finish: polished
– Overall Dimensions: 32″ x 19″ x 10″
– Bowl Dimensions (inside to inside): 30″ X 17″ X 10″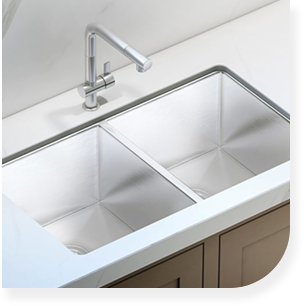 Double Bowl Sink – LOF 500
– 16 Gauge Steel
– Item ID: LOF500
– Material: Stainless Steel
– Finish: polished
– Overall Dimensions:
– 32" x 19" x 10"
– 81,28cm x 48,26cm x 25,4cm
– Bowl Dimensions (inside to inside; each bowl):
– 17" x 14 3/8" X 10″
– 43,18cm x 36,5125cm x 25,4cm
– Bowl ratio: 50/50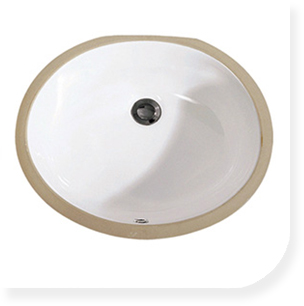 Lavatory U1714
– 17"x14" Oval White/Bisque Porcelain Undermount Sink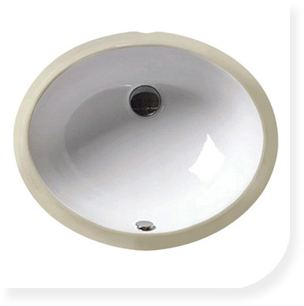 Lavatory U1512
– 15"x12" Oval White/Bisque Porcelain Undermount Sink
Lavatory U1811
– 18"11" Rectangular White Porcelain Undermount Sink